Wed, 18-10-2023 15:00:00

The Africa Health Tech Summit 2023: Pioneering Digital Health for a Resilient Africa

In the ongoing second Africa Health Tech Summit (AHTS) taking place from October 17th to 19th, 2023, in Kigali, Rwanda, the Africa Union InterAfrican Bureau for Animal Resources (AU-IBAR) is playing a crucial role in discussions about digital health. This event is focusing on empowering people and transforming communities through digital innovation. In one of the engagements, AU-IBAR's Director, Dr. Huyam Mohammed Elamin Salih (Below picture), delivered a keynote speech during a session led by Africa CDC on October 17th, 2023, titled "From Detection to Action: Optimizing Africa's Disease Intelligence Systems for Stronger Pandemic Preparedness."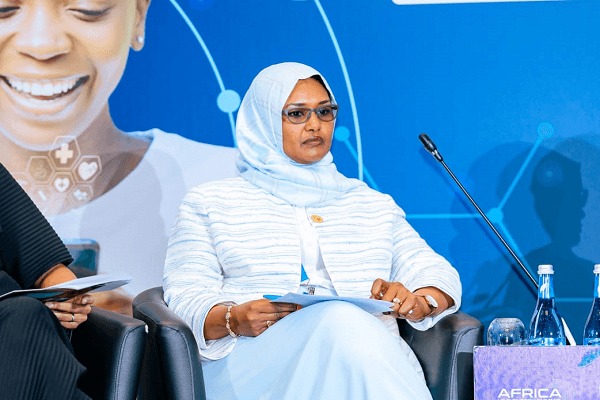 A Paradigm Shift in Disease Intelligence Systems
The summit's agenda centers around optimizing technology to enhance Africa's health security and advance universal health coverage for stronger pandemic preparedness, a topic of critical importance given the unique healthcare challenges faced by the continent. Recent global crises, especially the COVID-19 pandemic, underscored the imperative of timely detection, data-driven decision-making, and coordinated responses. Africa's Disease Intelligence Systems, thus, have emerged as the linchpin for achieving these objectives. Dr. Salih's keynote shed light on the challenges hindering early disease detection and response in Africa, including a lack of digital skills among public veterinarians, low disease reporting rates, inadequate capacities for disease detection and response, underutilization of data-driven technologies, insufficient collaboration between sectors, and inaccessibility to remote areas.
AU-IBAR's Solutions: A Catalyst for Change
AU-IBAR's pioneering role in addressing these challenges was highlighted during Dr. Salih's speech. She noted that AU-IBAR has been at the forefront of supporting improvements in national and regional disease surveillance systems. Through initiatives like the Animal Resources Information System (ARIS), AU-IBAR has built technical capacities for data collection, collation, analysis, and dissemination. Additionally, promoting community-based surveillance has been pivotal, empowering local communities to participate actively in disease monitoring and response. Strengthening coordination mechanisms and generating knowledge products such as the Animal Resources Yearbook further exemplify AU-IBAR's commitment to enhancing Africa's Disease Intelligence Systems.

Collaboration and Innovation: AU-IBAR's Cornerstone
AU-IBAR's active participation in the AHTS 2023 was made possible by the GiZ, that are currently collaborating on the "African Union One Health Data Alliance Africa" Project, a two-year initiative to enhance digitalized One Health governance and management in Africa, building on previous work on One Health that AU-IBAR has undertaken in the past with partners and in alignment with key continental policy frameworks.

The summit as a whole is being held through collaborative efforts with partners like the Global System for Mobile Communications Association (GSMA) and the Governments of Rwanda and Smart Africa. The summit, with over 1,000 leaders, policymakers, investors, experts, and innovators from across the continent, serves as a platform for fostering collaboration and sharing insights. AU-IBAR's engagement not only showcased their initiatives but also fostered a spirit of innovation and cooperation among attendees.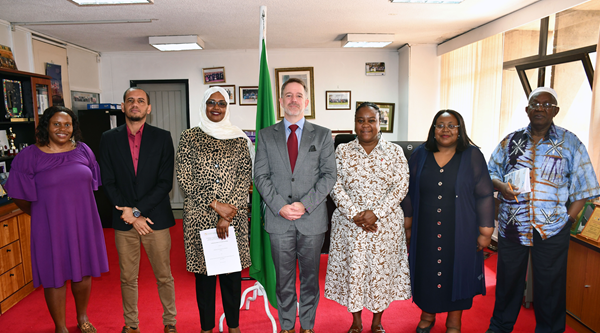 A Vision for the Future
The involvement of AU-IBAR and many institutions in the Africa HealthTech Summit 2023 marks a paradigm shift in Africa's approach to pandemic preparedness. By addressing challenges head-on and leveraging innovative solutions, AU-IBAR is paving the way for a future where Disease Intelligence Systems are not just robust but also inclusive and community-driven. As the summit concludes, Africa stands on the cusp of a new era in healthcare, one where digital innovation and collaborative efforts redefine the continent's health landscape.
 
Above picture: AU & EU and other delegates with Rwanda Health Minister Hon. Sabin Nsanzimana (4th Left); and AU-IBAR's Director, Dr. Salih, Third Right, back row)
Read Dr. Salih's full speech delivered during the "Detection to Action: Optimizing Africa's Disease Intelligence Systems for Stronger Pandemic Preparedness.Session" Here